OTTAWA, ONTARIO:
Equispheres Inc. has developed a non-explosible aluminum alloy feedstock for additive manufacturing (AM) that reduces the hazards associated with day-to-day handling of materials for 3D printing.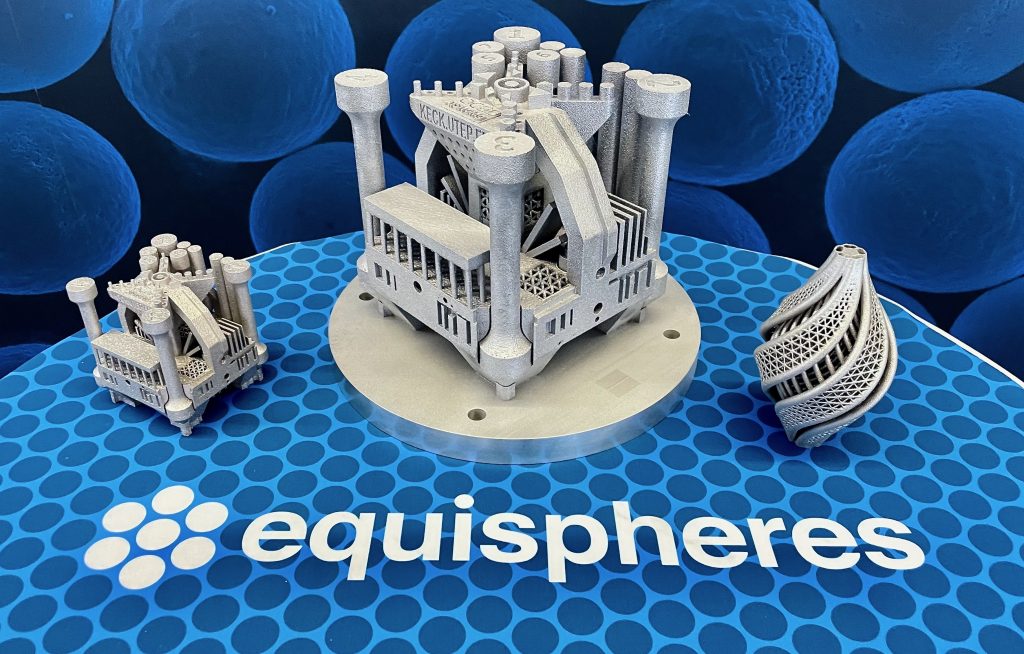 Identified as NExP-1, this ground-breaking material is specifically designed for production printing of aluminum parts. It maintains the ability to produce high-quality prints at high throughput rates, but unlike other metal powders for AM, it is dust-free and characterized as non-explosible per ASTM E1226, Standard Test Method for Explosibility of Dust Clouds. 
The material is also non-combustible, per the UN Manual of Tests and Criteria, Part 3, Subsection 33.2.1. for flammable solids. 
"We have achieved these key safety properties without altering the quality of our material nor the chemical composition. In printing, this material performs just as well as our other aluminum powders, but it has the added benefit of being non-explosible and non-combustible," says Evan Butler-Jones, Vice-President – Product & Strategy for Equispheres. 
As a materials technology company, Equispheres is committed to advancing the adoption of additive manufacturing. Because this new, non-explosible aluminum material significantly reduces the hazards of day-to-day handling without sacrificing the quality of the printed part, it could reduce the barriers to industrialization of 3D printing and make the process more easily integrated into manufacturing facilities. 
"It would almost be inaccurate to even call this a powder," he continues. "It is almost totally free of dust; it flows like water and it is easy to clean off of equipment surfaces. It is a completely unique printing media for production additive manufacturing." 
The material is currently available in AlSi10Mg. Equispheres has developed recommended parameters for printing the new material, targeting several end-use applications 
"We are applying our technology to empower innovation in additive manufacturing. We anticipate this new safer aluminum material will be embraced by companies using AM in a production setting," says Kevin Nicholds, CEO of Equispheres. "This new breakthrough is a result of our ongoing efforts to make 3D printing more accessible and competitive with other manufacturing methods." 
With a core team of metallurgists actively engaged in R&D, Equispheres continues to develop processes and products to advance the technology of additive manufacturing. The company's Performance and Precision lines of aluminum powder demonstrate marked improvement in print speed and part quality, resulting in lower per-part costs. NExP-1, an addition to Equispheres' Production product line relies on a technological breakthrough to address the handling properties of AM powders. 
To learn more about Equispheres' revolutionary aluminum powders, visit our website. Photos for use by the media are available on the media page. 
Photo: Parts printed by Aconity3D using NExP-1
About Equispheres:
Equispheres develops breakthrough technologies for the production and use of advanced materials in additive manufacturing. Leveraging our unique metal powders and process expertise, we are dedicated to driving forward the industrialization of additive manufacturing for the automotive, aerospace and defense industries. By lowering the cost and improving the performance of industrial 3D printing, we empower innovation. 
Follow us:
Facebook: Equispheres
Twitter: @equispheres
LinkedIn: https://www.linkedin.com/company/equispheres/
Forward Looking and Cautionary Statements This presentation contains forward-looking statements and forward-looking information (collectively, "forward-looking statements") within the meaning of applicable Canadian and U.S. securities legislation, including the United States Private Securities Litigation Reform Act of 1995. All statements, other than statements of historical fact, included herein including, without limitation, the impact of Equispheres's non-explosible aluminum alloy on AM and the anticipated business plans and timing of future activities of Equispheres, are forward-looking statements. Although Equispheres believes that such statements are reasonable, it can give no assurance that such expectations will prove to be correct. Often, but not always, forward looking information can be identified by words such as "plans", "will", "expects", "may", "should", "scheduled", "estimates", "intends", "anticipates", "believes", "potential" or variations of such words including negative variations thereof, and phrases that refer to certain actions, events or results that may, could, would, might or will occur or be taken or achieved. Forward looking information involves known and unknown risks, uncertainties and other factors which may cause the actual results, performance or achievements of Equispheres to differ materially from any future results, performance or achievements expressed or implied by the forward looking information. Equispheres undertakes no obligation to update any of the forward looking information in this presentation or incorporated by reference herein, except as otherwise required by law.