Efficiency is king in volume production
With decades of experience and continued process refinement, part producers have driven the costs of traditional manufacturing processes to just pennies per cubic centimetre. It's an impressive standard that was once thought out of reach of additive manufacturing. However, with recent advances in machines, processes, and optimized materials, additive manufacturing can be directly competitive.  
Presently, for many AM users, producing a printed aluminum part is expensive. The root of the problem is the poor quality of traditional powder that requires the user to slow down the scan speeds and scale back the laser power to obtain a stable melt pool. As a result, production throughput is significantly throttled, and the amortized cost of the printer and process becomes the dominant cost factor in part production. 
However, choosing a powder that has been specifically designed and produced for AM allows the printers to run at full capacity. Scan speeds can be raised, power levels can be increased, and spread layers thickened.   
The result is up to a 3 times increase in production speed and a 50% reduction in cost – with no impact on part performance or quality.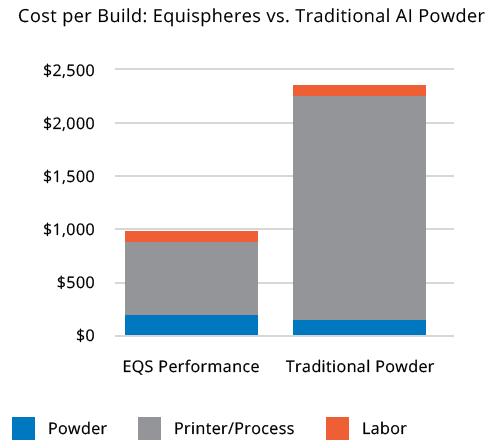 Powder that has been designed and optimized for additive processes enables manufacturers to replace current manufacturing processes for more complex parts. Equispheres currently has customers that additively manufacture, in volume, at costs that are equal to or less than traditional processes for a significant number of components.
Equispheres' business analysts have been working in collaboration with our manufacturing partners to optimize the use of our material, labor, and capital resources to minimize cost and improve profitability. 
---
Spea

k to one of our business analysts to learn how

your facilities can become more productive and cost-effective.