All powders designed and produced by Equispheres have exceptional qualities (highly spherical, low oxygen content, smooth surface and minimal fines) and provide best-in class print consistency and reliability.
Equispheres has designed four (4) types of aluminum alloy powders for Laser-Powder Bed Fusion that cater to different application requirements. These are as follows:
Production –The Production aluminum powder line has been designed for users who are producing parts in volume. It provides exceptionally high build speeds and wide processing windows with low dust content. Additionally, the material enables fast turnovers as it is easily removed and cleaned from open-loop handling printers.
NExP-1 – The NExP-1 powder line has been designed for volume part producers where safe handling is a priority. This aluminum powder is non-explosible and requires minimal special handling processes or storage. It also provides exceptionally fast build speeds and can be rapidly removed and cleaned from the printer.
High volume production applications (e.g. automotive, industrial) that require fast, build speeds, wide processing windows and safer handling
Precision – The Precision aluminum powder line was engineered for applications that require ultra-smooth surface finish and extremely precise part features and resolutions. The material offers a reasonably wide process window and good production speeds.
Lower volume precision applications (e.g. aerospace, RF systems) that require exceptional feature resolution.
Performance – The Performance powder line is Equispheres all-purpose aluminum powder. It provides exceptionally wide process windows and offers a well-rounded and balanced capabilities for fast build speeds, safety, precision, surface finish and cleaning.
General applications requiring a blend of good production economics and feature resolution.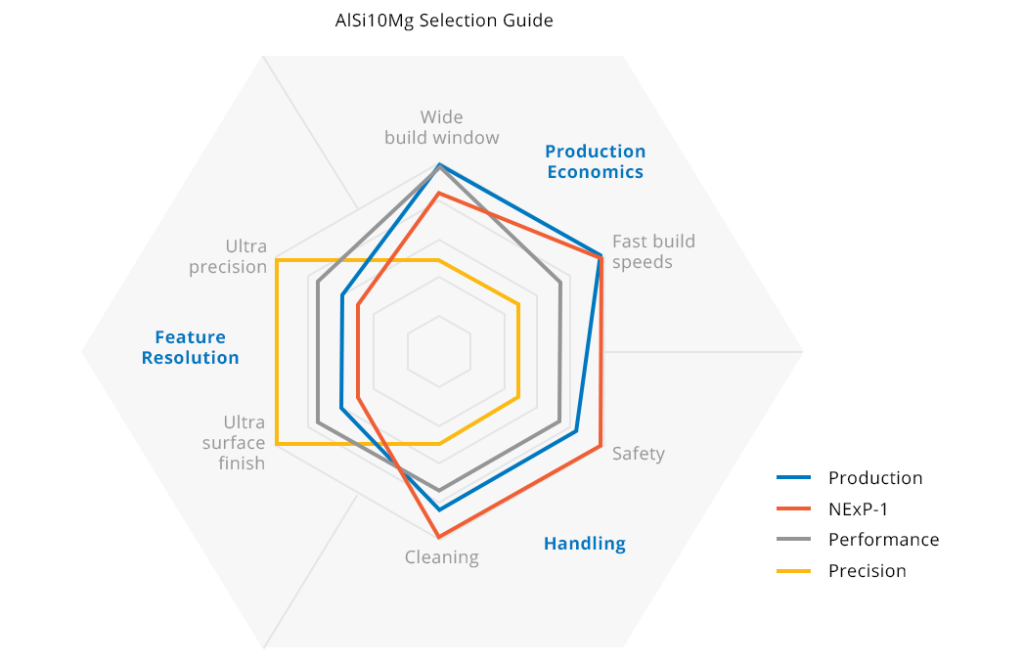 Other Powders Available
F357
A357
We also produce aluminum powder in the 2000, 5000, 6000, and 7000 range as well as custom alloys.